Ananya Panday's latest foodie indulgence will leaving you drooling. Take a look at what she ate.
India is a land of flavors, where each regional and traditional cuisine offers something different. When it comes to Sindhi cuisine, we are reminded of rich curries and flavorful vegetable dishes that leave us drooling. Sindhi food is popular across the country for dishes like dal pakwan and koak palla fish. Recently, actor Ananya Panday indulged in some delicious-looking Sindhi food on her "happiest day of the week." And yes, she made sure to tease us with some clicks. In the photo shared by Ananya Panday on her Instagram Stories, we could see a bowl full of sai bhaji, along with another bowl of Sindhi curry and some aloo tuk. Take a look: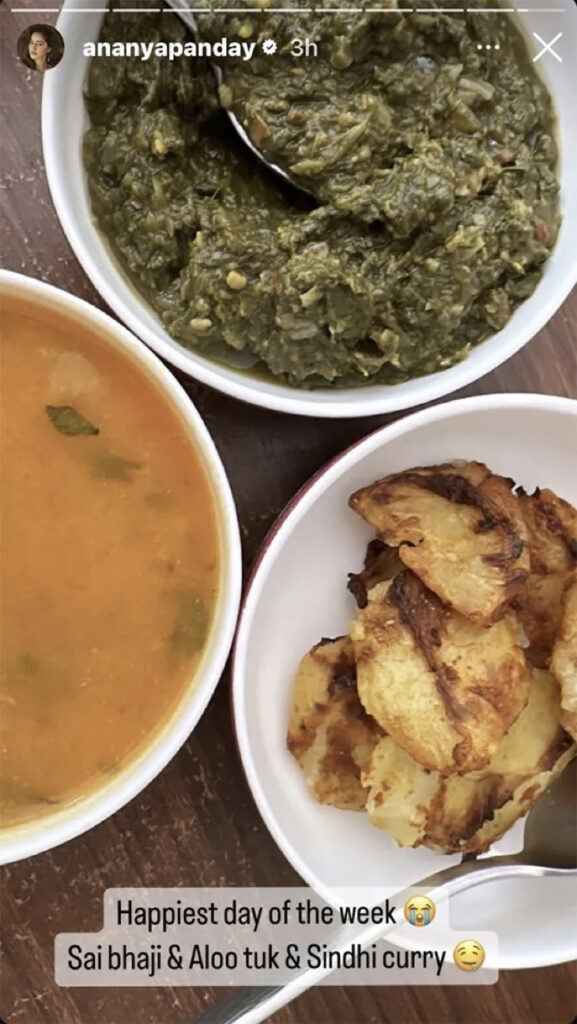 It is normal to wonder how it tastes, especially if you are not familiar with Sindhi cuisine. But we are here to help you out. Below are the recipes for the dishes that Ananya Panday was seen savoring.
Sai Bhaaji
Sai bhaji is a complete and nutritious meal, given the variety of vegetables, pulses, and spices that go into it. A one-pot dish, sai bhaji has mild spices and is usually enjoyed with steamed rice, koki, Sindhi bread, roti, and khichdi. Make this rich dish for your next lunch, and your family will definitely love it. Click here for the recipe.
Sindhi Kadhi
It is highly unlikely that you haven't heard of this Sindhi delicacy. This kadhi consists of mixed vegetables that are cooked in gram flour, curry, and spices. Sindhi kadhi goes best with some aloo tuk and boiled rice. So, make sure to try this dish too. Here is the recipe.
Aloo Tuk
This is the go-to snack for Sindhi people and can be easily prepared at home. Baby potatoes are fried to perfection and coated in a lip-smacking masala mixture before being served hot. If you are looking for a Sindhi evening snack, then go for it. Recipe inside.

Try out these recipes and let us know how you liked them in the comments below.