Hemu Kalani, the Sindh Hindu anti-colonialist, who was martyred by the British today, 80 years ago was a formidable if relatively unsung rebel of the last century. He was one of the youngest revolutionaries executed for fighting for Indian independence. He offered his life for his nation at the age of merely 19 years. His sacrifice is second to none in the context of bravery, daring and nationalism. The courageous acts of Hemu Kalani and his wish for following the example of those who gave up their lives for the struggle are unquestionably singular.
He is part of that unique pantheon of rebels and patriots belonging to the Indian independence struggle whose unshakeable valour permitted fresh opposition and with whom the abuses of internment were meaningless, while the death penalty did not frighten him. At the age of merely 19, he was content to give the most significant offering for the freedom of his nation. He was not incorrectly labelled the 'Abhimanyu' of the August Movement, after the iconic hero of the ancient Hindu text Mahabharata and one of the most significant revolutionaries of India. Hemu Kalani is a shining model of unflinching bravery and indomitable dedication to his nation. He also achieved the unique prestige of being one of the youngest rebels who paid with their lives while fighting for India.
Hemu was born in the Sindhi city of Sukkur in united India on March 23, 1923. He was a scion of the middle-class Kalani household in Sindh. His father Pesumal Kalani was a doctor and his mother Jethi Bai was a really devout and caring homemaker. Hemu was intrepid and a nationalist from the very beginning.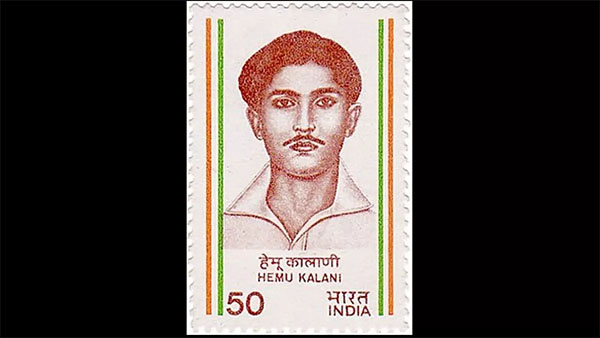 He concluded his initial education in Sukkur and later education at the prominent Tilak High School in the same city. He successfully completed his matriculation in 1942.
In his youth, Hemu admired the engagements of his uncle, the late Dr Mangharam Kalani, who was a famous Congress elder in Sukkur and a veteran of the anti-colonial struggle. He became a member of the 'Swaraj Sena' (a youth organization) and was elected its figurehead after being influenced by his uncle's precedent. He frequently led the youth of his area in holding the Congress tricolour and in convincing folks to shun foreign articles.
Hemu was attracted to rebellious engagements swiftly and began joining political gatherings, demonstrations, early morning processions, strikes, sloganeering 'Inquilab Zindabad' and 'Bharat Mata Ki Jai' at the top of his voice.
The environment of India got very tense in 1942 with Mahatma Gandhi launching the August Movement with the cry 'Do or Die'. Gandhi's cry to the masses had the goal of charging them to either achieve independence or death while struggling for it. The fight between the masses and the colonizers had become extreme. Virtually every Congress leader was apprehended and jailed. Without the presence of their leaders, students, the working class, peasants, males and females, took over the struggle and started assaulting post, railway and police offices. The police endeavoured to control them via ammunition and detention.
Hemu, who was a muscular, able-bodied sportsman, a trained biker and an award-winning diver, was greatly touched by the intense happenings of those times, and he resolved to fulfil his responsibility in the movement. He knew about the heartwarming tale of Bhagat Singh and of his sacrifice. Hemu Kalani also became a part of the people's struggle. The Sindhi masses played such a leading role in this struggle that the colonizers were forced to send European-only reinforcements.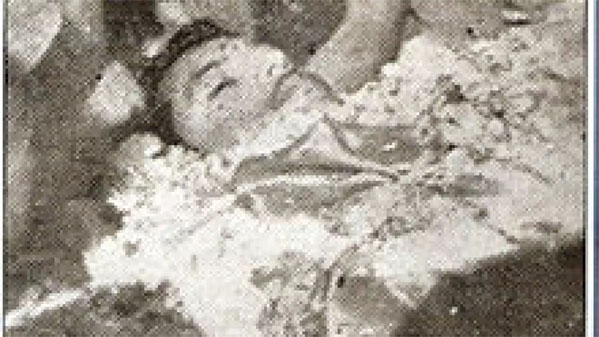 A picture of Hemu Kalani from his funeral.
Hemu Kalani became aware that British contingents and armaments would be entering Sindh by rail travelling through his city in October 1942. He resolved to crash the train by pulling out the brackets from the train track. He and his associates were seriously hampered since they did not possess any implements for unfastening the nuts and bolts and pulling out the brackets. But prior to the conclusion of their task, they were detected by the British contingents and Hemu, in his attempt to rescue his associates, was apprehended. 
Then Martial Law has imposed in Sindh thanks to the Hur struggle of Pir Pagaro. Hemu's trial was presented before a Martial Law court in Hyderabad which charged him with treason against the British rulers after a lengthy hearing and awarded him with a life sentence. He was abused violently by police to reveal the identities of his comrades but he declined to do so, thus taking the entire responsibility upon his own person. He stated to the police and the court that if the British rulers could justify putting down the independence movement by force of weapons and armaments, then he, was totally right for endeavouring to eradicate these same weapons and armaments.   
The Martial Law court in Sukkur advanced its decision of life sentence for the endorsement of Colonel Richardson, the Head Officer at the Head Office in Hyderabad (Sindh). He was strictly opposed to the rebels and could not stomach a young lad defying British domination. With a great feeling of retribution, he modified the life sentence into one of hanging.  
The masses of Sindh were upset at the decision and implored the Viceroy for clemency but the death sentence was to hold until Hemu became a turncoat and disclosed intelligence relating to his comrades. Hemu absolutely refused to do so and he cheered the looming execution heartily.
This teenage anticolonialist and rebel were executed on January 21 1943, 80 years ago today.
The whole country was upset at the horrendous potential of being deprived of his life. He embraced martyrdom with a beaming visage and the cries of 'Inquilab Zindabad' and 'Bharat Mata Ki Jai' adorning his lips. 
The entire country grieved about this harsh punishment upon a youth of merely 19 but the British colonizers celebrated. A clemency petition was submitted to the Martial Law authority Colonel Richardson by a few very illustrious Sindhi gentlemen like Jamshedji Mehta, Sadhu T.L. Vaswani, Peerzada Sattar, Swami Hamamdas and Veerumal Begraj. Regrettably, this petition was callously rejected with the punishment modified to 'death by execution' at Sukkur Jail. 
Five days after Hemu's execution, on January 26 1943 the Congress leader Jawaharlal Nehru offered a glowing tribute to Hemu Kalani when he said:
My mind travelled to Sindh where a few days ago a young boy, Hemu aged 20 was sent to the scaffold by a martial law court for the offence of tampering or attempting to tamper, with railway lines. He was a college student, recently matriculated. Whether his offence was properly proved or not – little proof is needed by a military tribunal functioning under martial law – I do not know. But this execution struck me as something which will have far-reaching consequences all over India, especially among the young. The blood of Hemu and others will long stand witness …
When Nehru arrived in Sindh in 1945, he showered praise on the martyr by visiting the latter's mother at his home. The leading officials of the 'Azad Hind Fauj' of Subhas Chandra Bose too recognized Hemu as a martyr by gifting a gold medal to his relatives.
Hemu's fellow Sindhis acknowledge Hemu Kalani as the Bhagat Singh of Sindh. Yet it is ironic that while Hemu is remembered and acknowledged in neighbouring India, where many institutions are named after him and numerous statues and public monuments in his name dot various Indian cities, in his own country of origin he remains an alien and forgotten figure. In fact, a park named after Hemu Kalani in Sukkur was renamed after the Arab conqueror Muhammad ibn Qasim. This is a treatment similar to the case of the much-better-known Punjabi revolutionary Bhagat Singh who was born in Lyallpur (now Faisalabad) and executed in Lahore in 1931; and whose birthday and death anniversary has taken on trappings of annual cultural festivals. There has also been a robust campaign within Lahore by civil society organizations to rename the Shadman Chowk after Bhagat Singh given that he was executed there, but to no avail so far.